Ksenia Mochalova
Serenity Expert
"Feelings come and go like clouds
in a windy sky. Conscious breathing
is my anchor."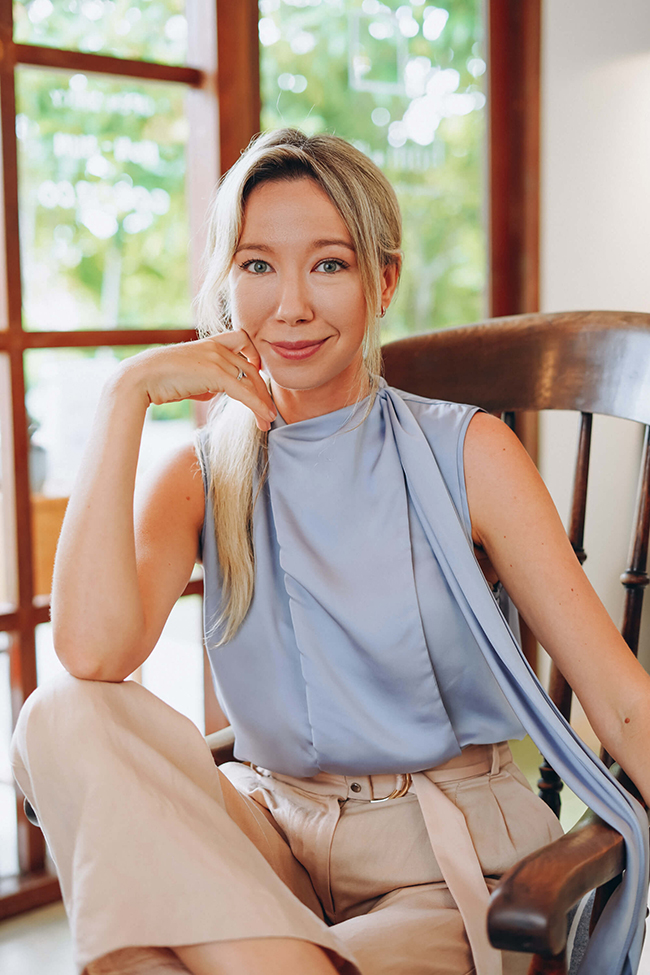 Hey There, I'm Ksenia
I'm a luxury wellness therapist specializing in Yoga Therapy and Mind Relaxation with 15 years of personal experience in the field of meditation. I facilitate unique sessions and retreats, creating a personalized experience of bliss and ultimate relaxation, restoring the natural harmonious way of being.
During my private guided meditation and yoga therapy sessions, I assist individuals in acquiring an empirical knowledge of the behavioral patterns that might be hindering personal growth or a successful career. Allowing the new ways of interaction with the reality we can improve sleep cycles, eliminate patterns of anxiety, anger, frustration and increase resilience to stress.
Having worked with wide range of clients from the corporate world seniors to Olympic athletes, I've developed a signature approach. Every unique session is an invitation on the journey within towards the happy and steady state of inner awareness, to ensure positive and lasting changes.
Serenity Immersion Session – signature treatment by Serenity Expert. Personalized 75 minute session which outlines a solution-based strategy to a client's request and needs. Includes a unique blend of Inner Yoga principles carefully guiding you into the altered state of mind with Hypnotic voice technique.
Rapid Transformation Hypnotherapy – is the award-winning therapy combining the most beneficial principles of hypnotherapy, psychotherapy, NLP, CBT, and neuroscience. Offers unparalleled results by harnessing the most powerful healing potential on the planet – the mind. It goes beyond hypnotherapy training to offer a complete solution-based approach to achieving fast results that last.
Inner Yoga – In the Western world Yoga has recently become a synonym of physical movement and activity of the body. Whereas in the East holistic approach to yoga implies that only 20% of all the techniques correspond with the realm of the physical training. When yoga is practiced in this wider fuller way, honoring the tradition that survived for millennia, it truly becomes that union ( from Sanskrit, "yoga" is literally translated as "union") that promotes strong therapeutic effect. Inflammations, digestive problems, obesity, diabetes, arthritis, protrusions of the discs in the spinal column, chronic tension, insomnia, anxiety, depression and a number of other health related issues could be significantly improved or cured completely by simple yogic practices performed in specifically structured manner.
During the classes both our bodily structure and the mind are training the skills of flexibility and focus. Strength, vitality and enhanced sense of wellbeing are acquired.
Guided Meditation Ceremony:
1. Kundalini practice – Unlock your Vital Energy. Some of the events we experience in life leave significant imprints on our subtle bodies, tainting our reality in a way that potentially endangers our wellbeing. Lack of energy, feeling dissatisfied, recurring problems in specific areas of life while everything else is blossoming and flourishing could be the signals of carrying too much of emotional baggage. Kundalini yoga, by the means of movement, breath work and meditation techniques, is intended to dissolve all the blockages stopping our vital energy from its natural abundant flow. As a result we feel more aligned, nourished, more of who we really are.
2. Yoga Nidra – Soothing & nurturing meditative experience on the ultimate
level of your relaxation. Letting go of the past patterns which are out of alignment with your present reality. This practice will assist in eliminating unnecessary stress, adjusting the sleeping patterns and visioning new directions.
3. Loving Kindness – Restoring your Mind-Heart Connection. Authentic mindfulness and Metta Bhavana ("loving kindness") techniques combined with effective breathing practice that complies with your heart's intention.
Past-life Regression – Hypnosis to recall past lives seeks to bring into consciousness hidden or repressed memories that have been carried forward from a previous lifetime. Past life regressions provide the opportunity to discover who you may have been in a previous incarnation. People using the technique believe learning about your past lives may help reveal information that allows you to heal issues or discover new purpose in your current life.
What You Can Discover in Past Life Regression:
• Discover the source of fears and phobias
• Discover the source of physical ailments
• Learn about your karmic path with people who have been with you before
• Find the source of attachments to people, places, or objects