Hong Kong's trusted source for life coaching, counselling & holistic therapies
If you feel like you have lost your purpose or direction or are having trouble reaching the next stage of your life, our therapy can provide you with the clarity and self-understanding to get you where you need to go.
When you allow yourself to believe in the possibility of change, then change finally becomes possible!
At Eden Life Academy, we aim to provide the highest standard of care to every client. Our practitioners are have years of training and considered experts in their respective fields. Our academic knowledge and years of experience together with our holistic approach allows us to address the whole array of emotional difficulties to empowering our clients to live their best life.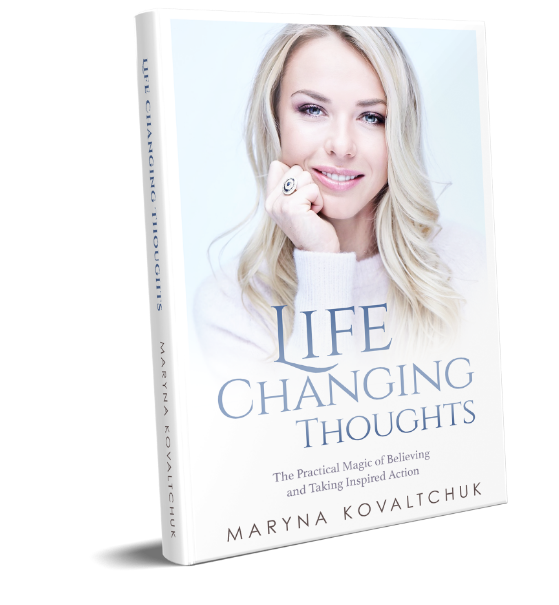 LIFE CHANGING THOUGHTS
THE PRACTICAL MAGIC OF BELIEVING AND TAKING INSPIRED ACTIONS
HK$299
You were born worthy and have absolutely nothing to prove. This book is going to show you how to get back to creating the life you were meant to create. How are you feeling at this very moment in time? Tired? Stressed? Worried? If you feel so - your life is out of your control.
We will donate 10% of all proceeds to 10x10 Philanthropy
You can also purchase the book at


Kristina Trushnikova
I am truly blessed and grateful that the universe brought me to this beautiful soul, which helped me with my transformational journey. Living hectic and stressful life in a busy city can make you very easily get lost in your mental and physical well-being. Maryna very gently, without me even notice how it happened, she guided me to the right path and brought to my attention that I need to start looking after myself. She explained me what was behind of my toxic relationship choices. Maryna's personal and unique approach to my problems helped me with my panic attacks, anxiety, and depression. It's still a long way to go but now I have confidentiality in myself and I'm developing self-love. I learned how to listen myself, my body, and my mind. I would highly recommend to everyone experience this magical transformation which will change your life forever.

Ann Madrazo
Maryna is great at what she does. Her coaching have been a life changing! She truly believes in her clients and it shows through his consistency and professionalism . If you want a positive change in your life, I'd say Eden Life Academy is the perfect place to start.

Claudia Solenthaler
The workshops offered at Eden Life Academy are top-notch and highly recommended to anyone looking to make a positive change in their life. Maryna really cares for her clients and takes the time to listen and give honest and open feedback/advice to really push you in the right direction.

Lukian Wang
Was introduced energy and healing crystals and how to use them. I really enjoyed the time Maryna spent listening to my personal stories, connecting, and understanding who I am and what I want. Her book also helps in organising your thoughts and actions in a positive way.

María Mayorga
I am amazed at how much I've changed with the help of Maryna! Reading her book was a real eye-opener. It has been extremely helpful in creating the life I'm aiming for. Of course, life is a journey and things take time, but taking the first step is the most important thing and I'm so glad that I found her to help me in this journey.
Book an appointment today
We understand the strength it takes to seek professional support. If you have a question and would like to know more about working with us, please check our FAQ page or fill our the form below. Once you have submitted a message to us, a member of our team will be in touch with the next steps within 2 business days.